Our crystal glass nail files are unique creations, with a design available to suit any taste. All of our files originate from the Czech Republic and are etched on both sides. We guarantee that our nail files will never wear down! Simply rinse them under warm water occasionally to clean the nail dust off.
The crystal glass files are available in a variety of sizes with the option of a hand-painted design or a beautiful colored handle, with or without Swarovski crystals.
$7.00: The mini nail file is about 3 1/2 inches long, which makes it the perfect travel size to carry in a purse. Although the file is tempered, it is a piece of glass that shouldn't have pressure applied to it because it may break.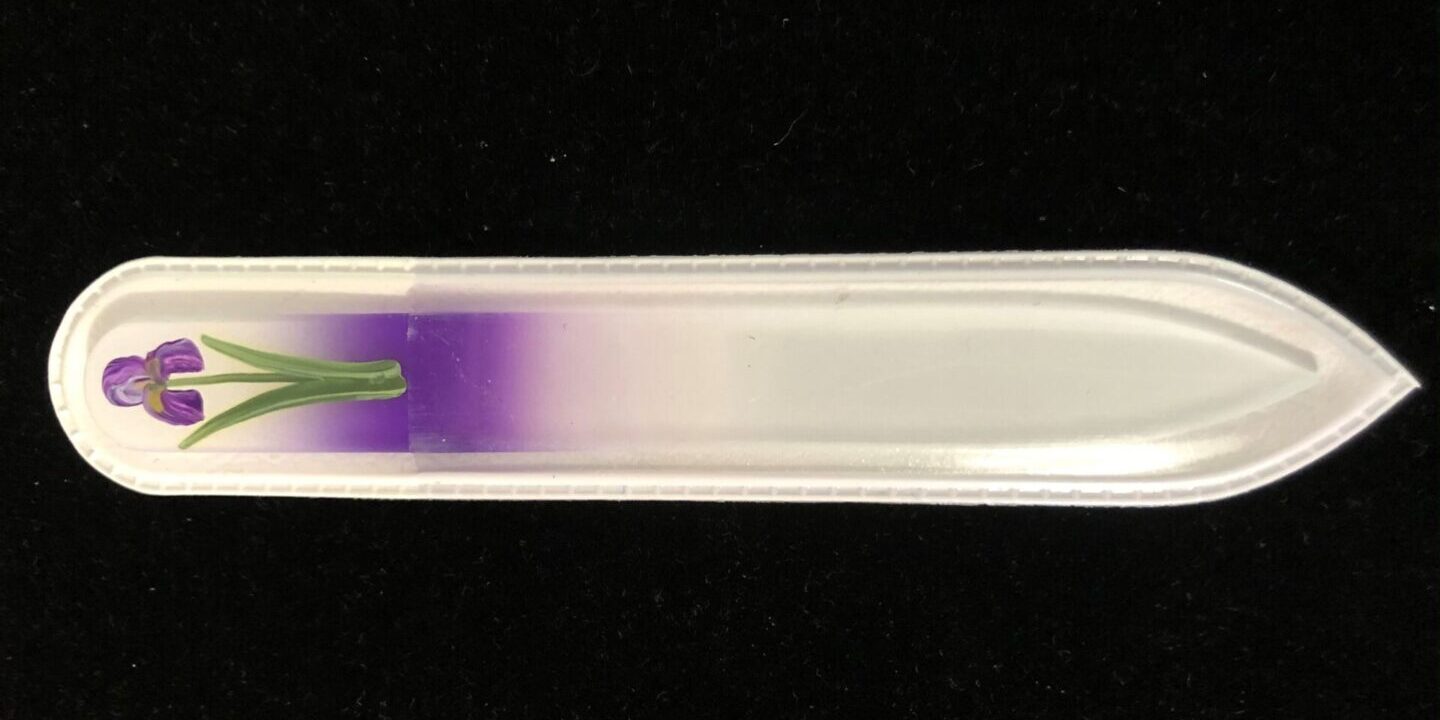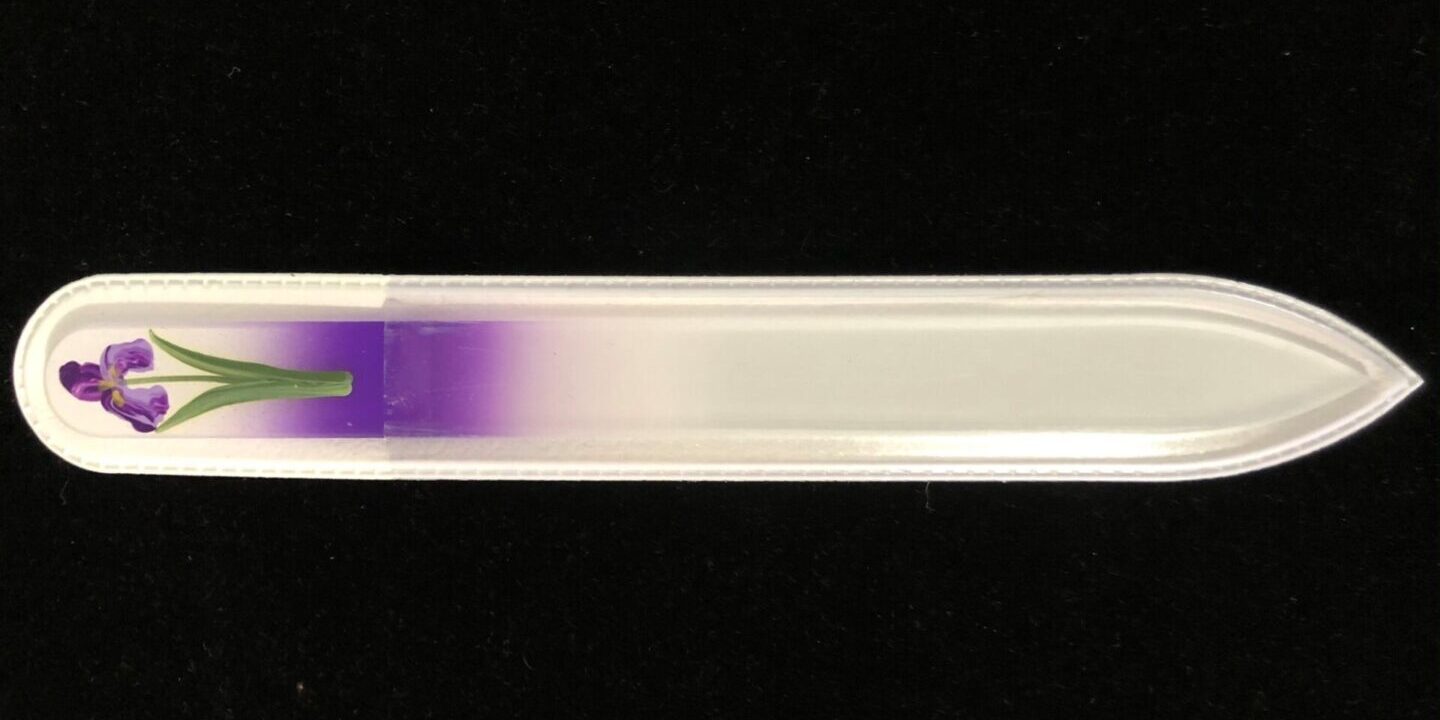 $10.00: The medium nail file is about 5 1/2 inches long and is our most popular size because it is excellent for everyday use. With more filing surface, it won't need to be cleaned off as often and is more comfortable to hold because of its length.
$12.00: The pedicure version is 7 ½ inches long and has the same concept of the nail file, but the etching is much rougher for the skin. It does an excellent job of removing hardened and calloused skin on hands, heels, toes, and the side of the foot. It is also great for dry elbows. The use of the pedicure version regularly will often clear up the issues entirely or help it become much more manageable. We recommend using the pedicure file when the skin is moist (right out of the shower). Tip: Remember to use the pedicure file just a little bit at a time because a layer of skin is being polished away, and you don't want to walk on a fresh layer of skin!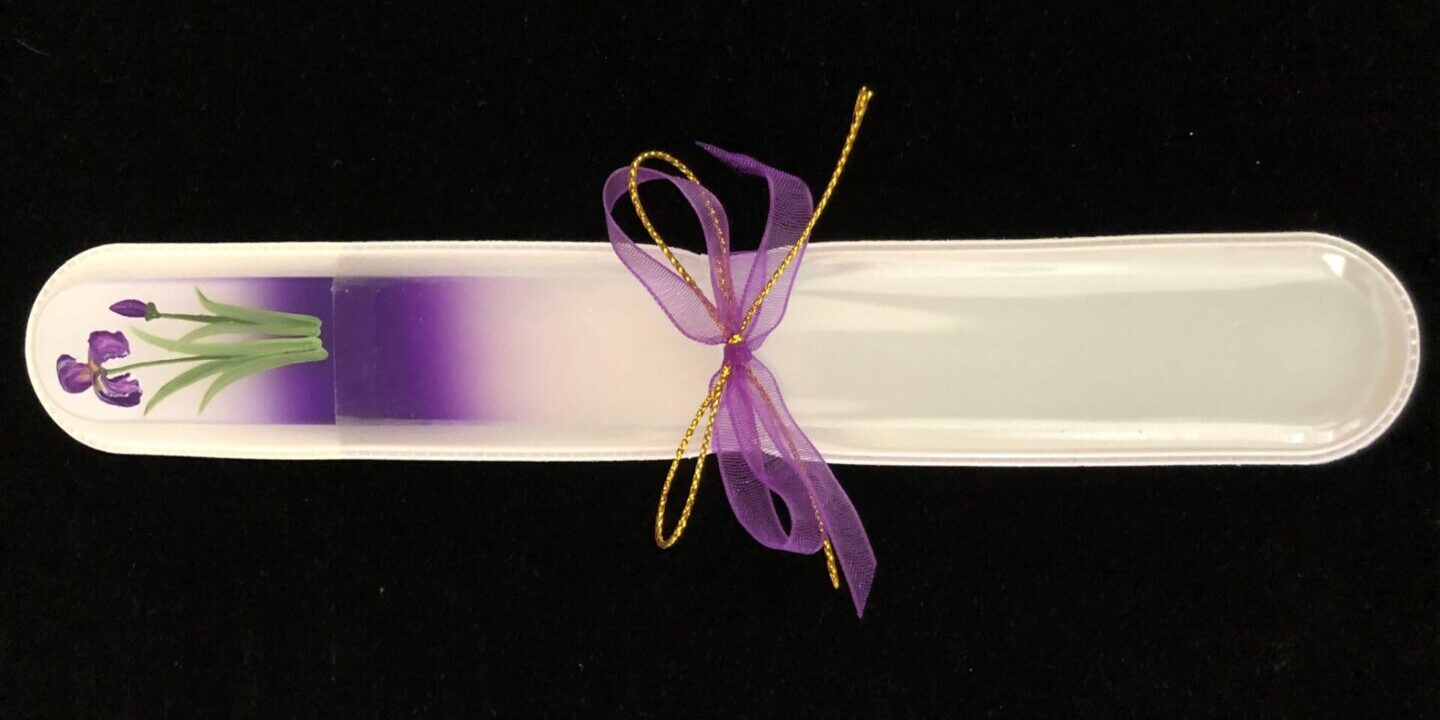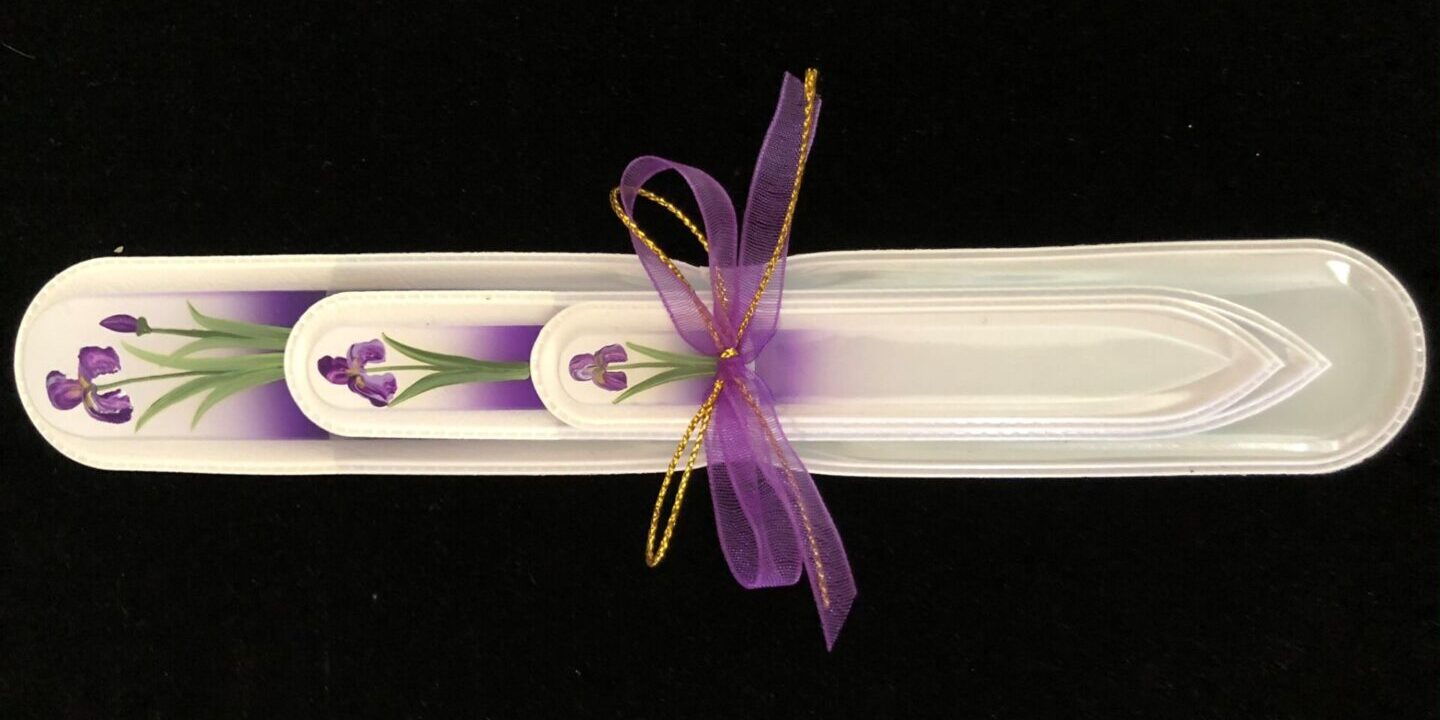 $25.00: We offer a 3-piece gift set that includes a mini, medium, and a pedicure file wrapped with a bow. These make great gifts for all occasions or even a beautiful gift to treat yourself to! You save $2.00 when purchasing a set as opposed to buying one of each size individually.
$18.00: The spa bar is the new and improved version of the pedicure file. It is redesigned with an etching that is coarser and even more effective at the removal of dry and calloused skin. One side is rough to remove the skin, and the other side is smoother to leave areas such as the heals, toes, hands, and elbows soft to the touch.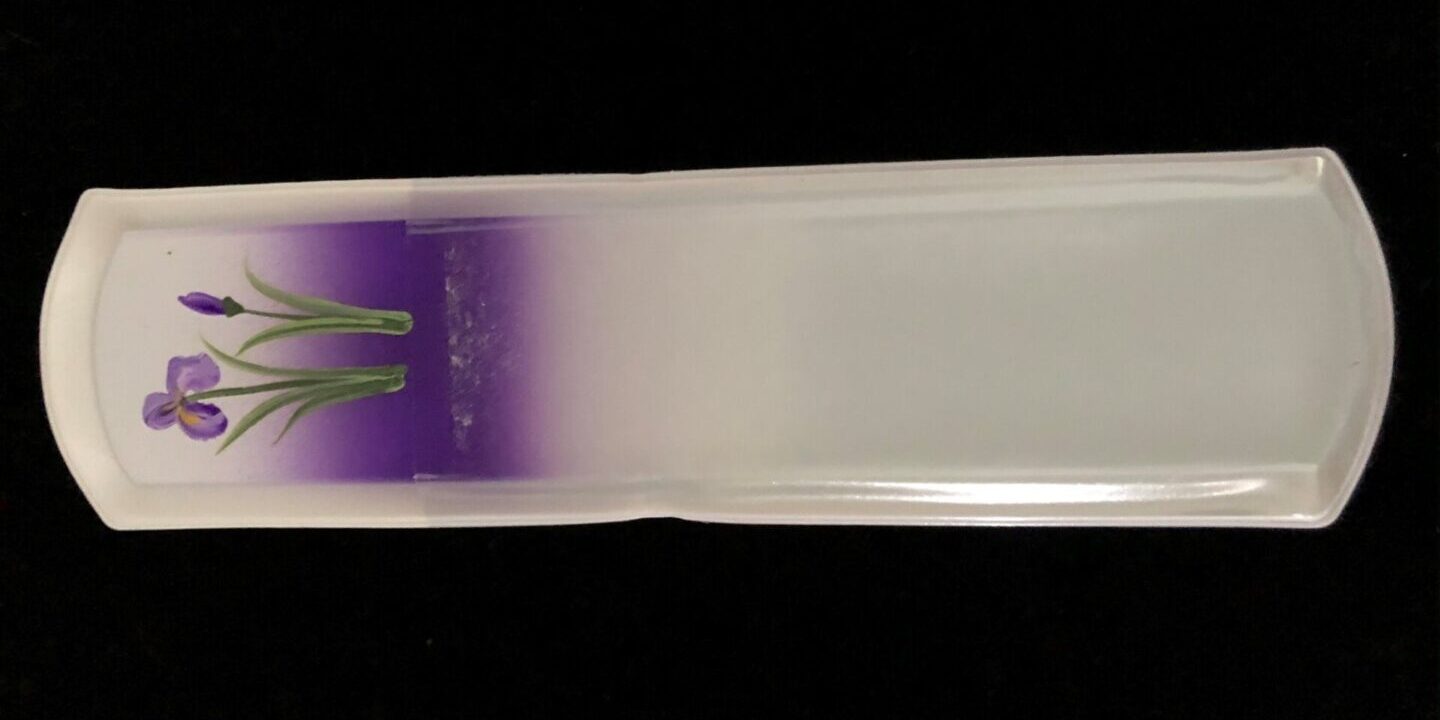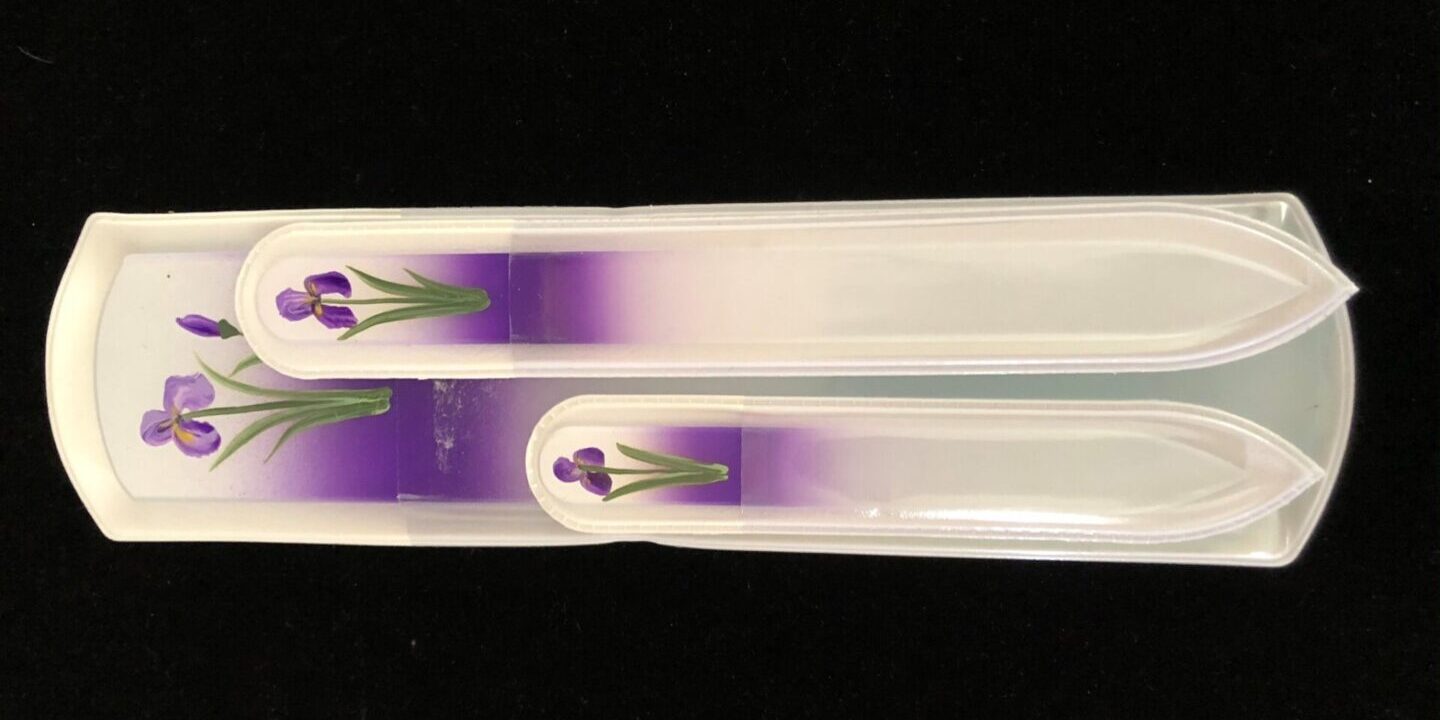 $30.00: The Spa Bar Set includes the spa bar, medium nail file, and the mini nail file. It saves you $3 from purchasing each size individually. 
$40.00: This is the ultimate gift set! With a mini nail file, medium nail file, pedicure file, and the spa bar file, you will have everything you need to treat yourself to the gift of beautiful nails and smooth skin! This set saves you $4 from purchasing each size individually.